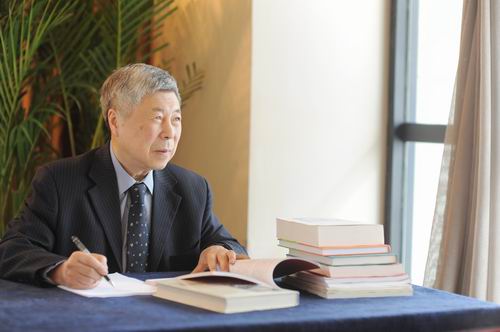 汪尔康(1933~),江苏镇江人。分析化学家。1991年当选为中国科学院学部委员(院士),1993年当选为第三世界科学院院士。1959年获捷克斯洛伐克科学院极谱研究所副博士(Ph.D.)学位。六十多年来始终致力于分析化学和电分析化学的研究,为发展中国的分析科学做出了重要贡献。20世纪50~60年代,最早发现了阴离子促使汞电极氧化发生极谱氧化波的普遍规律,提出了界面形成汞配合物及汞盐膜理论,丰富和发展了极谱学理论。70年代,研制成功以中国第一台脉冲极谱仪为代表的系列极谱仪器,为深化极谱学的发展提供了重要支撑。80年代,首创线性电流法研究液/液界面电化学的新方法,创新性地提出了离子转移新理论,开拓了仿生膜电化学的研究,推进了电分析化学的新发展。近十多 年来,率先开展了电化学扫描探针显微学、毛细管电泳电化学和纳米生物电化学等的基础和应用研究,取得了系列重大创新性成果。先后荣获国家、院省部级成果奖18项,国际奖2项。2004年获吉林省首届科技进步特殊贡献奖。
Erkang Wang was born in Jiangsu, China on May 4 1933. Graduated in chemistry at the University of Shanghai(1952). Since then he joined Changchun Institute of Applied Chemistry(CIAC), Chinese Academy of Sciences(CAS). Ph.D. degree received in Prague from the Czechoslovak Academy of Sciences in 1959 under Professor J. Herovsky, Nobel Prize laureate. He is a member of CAS(1991) and of the Academy of Sciences for the Developing World(TWAS)(1993), Honourary Member of the Japanese Analytical Chemistry Society(2006). He is academic advisor, Academic Committee, State Key Laboratory of Electroanlytical Chemistry, Professor of Chemistry, CIAC, CAS; editor-in-chief, Analytical Chemistry (Chinese). He was previously deputy director and director, CIAC, CAS; Visiting Professor:University of Houston(USA), Dijon University(France), Kyoto and Yamanashi Universities(Japan), and the Hong Kong University of Science and Technology. His awards include: 3 National Science Congress Awards; 5 CAS Awards; 10 Awards and 1 Special Outstanding Award in Jilin Province, etc; 3 National Natural Science Awards; first winner of the 10th Kharazmi International Festival(Tehran, Iran) and the World Intellectual Property Organization(Geneva), 1997; and 40 patents. Over 100 plenary, key and invited lectures in international symposia. Over 200 seminars and reports in 26 countries and regions. He is very active for the international academic exchange and has organized a series of International Symposia on Electroanalytical Chemistry (ISEAC, 14th in 2013) and Sino-Japan, Sino-France bilateral symposium and Analysis as well as Beijing Conference and Exhibition on Instrumental Analysis (BCEIA, 15th in 2013), etc. He has being directed 13 postdocs and over 150 graduates, among them 3 received national hundred excellent doctorate thesis awards, 5 Special President Awards and 4 excellent doctorate thesis awards of CAS. He has been awarded as an excellent graduate supervisor many times in CAS. He is known for his advancements in bioelectrochemistry, sensors and biosensors, hyphenated interface with separation technics, microfluidics and electroanalytical chemistry. Published over 900 papers, among them 739 in SCI journal citated over 17000 times with H index of 66.
Selected papers as the corresponding author recently
1. Yan Du, Bingling Li, Erkang Wang. "Fitting" Makes "Sensing" Simple: Label-Free Detection Strategies Based on Nucleic Acid Aptamers, Acc. Chem. Res., 2013, 46, 203-213.
2. Hui Wei, Erkang Wang. Nanomaterials with Enzyme-like Characteristics (nanozymes): Next-Generation Artificial Enzymes, Chem. Soc. Rev., 2013, 42, 5981-6202.
3. Xuan Yang, Linfeng Gan, Lei Han, Erkang Wang, Jin Wang. High-Yield Synthesis of Silver Nanoclusters Protected by DNA Monomers and DFT Prediction of their Photoluminescence Properties, Angew. Chim. Int. Ed., 2013, 52, 2202-2206.
4. Libing Zhang, Jinbo Zhu, Shaojun Guo, Tao Li, Jing Li, Erkang Wang. Photoinduced Electron Transfer of DNA/Ag Nanoclusters Modulated by G Quadruplex/Hemin Complex for the Construction of Versatile Biosensors, J. Am. Chem. Soc., 2013, 135, 2403-2406.
5. Shaojun Guo, Erkang Wang. Functional Micro/Nanostructures: Simple Synthesis and Application in Sensors, Fuel Cells, and Gene Delivery, Acc. Chem. Res., 2011, 44, 491-500.
6. Jin Wang, Kun Zhang, Erkang Wang. Quantifying the Waddington Landscape and Biological Paths for Development and Differentiation, Proc. Natl. Acad. Sci. USA, 2011, 108, 8257-8262.
7. Weiwei Guo, Jipei Yuan, Qingzhe Dong, Erkang Wang. Highly Sequence-Dependent Formation of Fluorescent Silver Nanoclusters in Hybridized DNA Duplexes for Single Nucleotide Mutation Identification, J. Am. Chem. Soc., 2010, 132, 932-934.
8. Tao Li, Shaojun Dong, Erkang Wang. A Lead(II)-Driven DNA Molecular Device for Turn-On Fluorescence Detection of Lead(II) Ion with High Selectivity and Sensitivity, J. Am. Chem. Soc., 2010, 132, 13156-13157.
9. Shaojun Guo, Shaojun Dong, Erkang Wang. Constructing Carbon Nanotube/Pt Nanoparticle Hybrids Using Imidazolium Salt-Based Ionic Liquid as a Linker, Adv. Mater., 2010, 22, 1269-1272.
10. Tao Li, Erkang Wang, Shaojun Dong. Potassium-Lead-Switched G-Quadruplexes:A New Class of DNA Logic Gates, J. Am. Chem. Soc., 2009, 131, 15082-15083.